sumida school excursion guide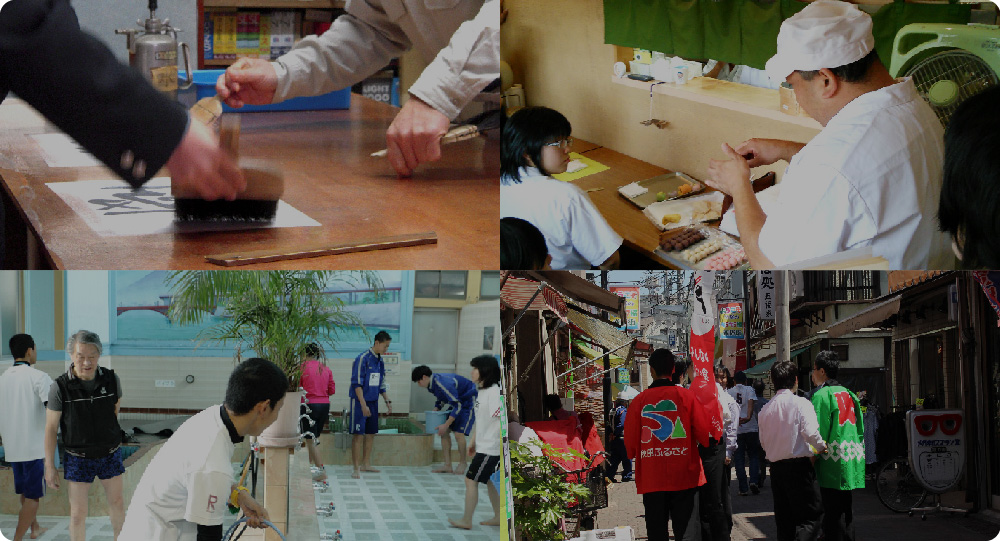 We stay to think
Corner or school excursion
To all of you thinking of school excursion
Sumida-ku located in downtown area of Tokyo, the east bank of the Sumida River is town where tradition and culture from the Edo era breathe. Tokyo Skytree ® proud of new Landmark, altitude of 634m to Sumida-ku started a business on May 22, 2013.

"Sumida-ku" was existence to be hardly given in koho for destination of school excursion until now. However, in fact, destination of school excursion includes a lot of suitable places in Sumida-ku. At first, it is "manufacturing experience" to make industrial products only in folkcraft and Sumida-ku conveying the skill of artisan who has been inherited from the Edo era in now with hand of oneself of student. Experience to get by instruction directly from craftsman of folkcraft can expect big effect from aspect of career education with original work which is exclusive in the world.
In addition, much peace learning adopting as program of school excursion at school is one. It will be that it can be keenly aware of preciousness of peace to students to hear state at the time from experient in Sumida-ku which sent many victims by Tokyo blitzkrieg of March 10, 1945.
In addition, we can listen to first-class performance in first-class hall in visit of sale Edo Tokyo Museum at mall that is full of the old downtown atmosphere with exhibit which actually has abundant, "sumida torifonihoru". In this way, Sumida-ku can be right called "the town having abundant material of learning".
"We connect", and "we polish up" is teikukotoga, mission of Sumida-ku Tourism Association "we dig up" in material of school excursion in this way. Is fantastic for student by all means, is also so
We are convinced that we can offer school excursion to remain to be. We look forward to town where genuine article is valid while the Tokyo Skytree is built, coming to Sumida-ku.