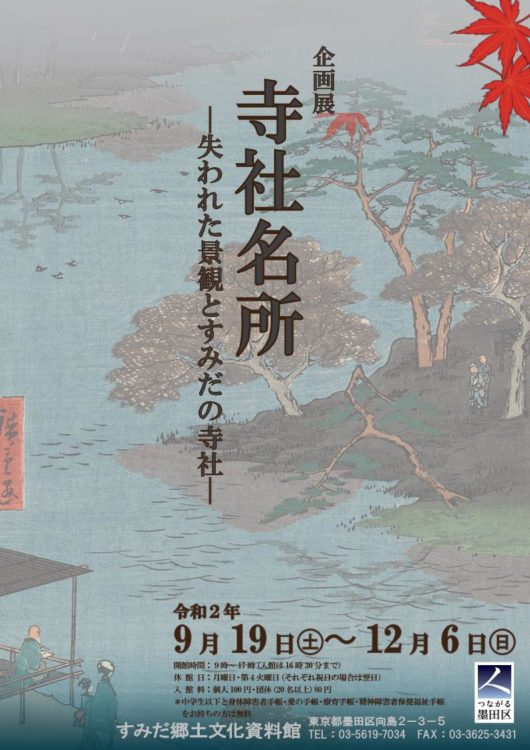 In the Edo era, Buddhist temple and Shinto shrine prayer and visiting famous places are prevalent. In Sumida-ku, many Buddhist temples and Shinto shrine after the Middle Ages attracted seeing and hearing as famous place other than famous place succeeded like cherry blossoms and fireworks in the present age. We introduce now about famous place that was already lost around Buddhist temple and Shinto shrine which became famous place of the Edo era in this exhibition.
For more details, please see flyer, HP.

For new coronavirus infectious disease extended prevention, in the case of visit, please cooperate with wearing of mask, finger disinfection and thermometry at the time of admission.
Period
From September 19, 2020 to December 06, 2020
Venue
sumida kyodobunkashiryokan (2-3-5, Mukoujima, Sumida-ku)
Contact 
◆Closed day: Monday, fourth Tuesday (in the case of holiday the next day)
◆Time: From 9:00 a.m. to 5:00 p.m. (as for the admission until half past 4)
◆Admission charges: Personal 100 yen, group (more than 20 people) 80 yen, junior high student or younger and certificate of the physically disabled, love having notebook, nursing notebook, mental patient health welfare notebook are free of charge
sumida kyodobunkashiryokandenhanashi 03-5619-7034

Homepage