About corner lump fishing, child waiting Sumida-ku Tourism Association questionnaire result
We raised awareness of "it is oldness and corner" and planned local promotion and prayed for security and health of child, and corner lump fishing, child Festival was held for the purpose of bringing up cooperation and friendship on Sunday on 6th on Saturday, October 5, 2019 by interchange of inhabitant of a ward. The 44th, child festival met the 49th, and, as the autumn biggest event in ward, corner lump change was full of about 300,000 visitors in two days.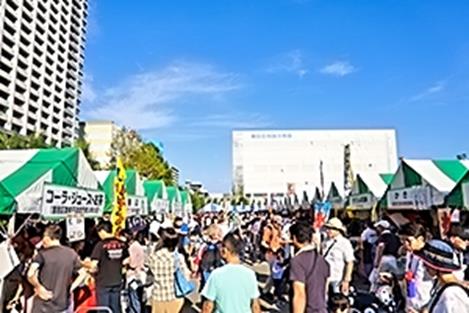 We wanted to introduce, and, in Sumida-ku Tourism Association, questionnaire carried out direct voice of Sumida inhabitants of a ward not information such as guide map or TV to all of you who could come to Sumida-ku for sightseeing in recommended spot of Sumida-ku, shop, three sections of event. As which came from outside of a ward came, we divided with count and the whole visitors only for Sumida inhabitants of a ward this time and, for corner lump fishing, child Festival, added up.
The first place that is recommended everybody…
(tourist attraction edition)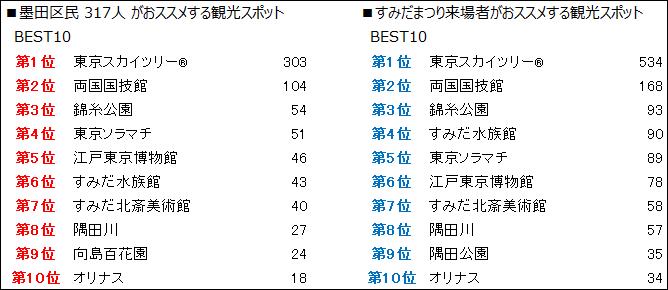 We had comment from Tobu tower Skytree Tokyo Skytree town public information secretariat.

In "tourist attraction" recommending section, the Tokyo Skytree has the first place and takes with being very honored. We aimed to be able to become in the Tokyo Skytree loved including all of local Sumida-ku from the opening of business for seven years by a large number of people, but will still make an effort. And wants to heap up the Tokyo Skytree that is "the world's most expensive tower" in held Tokyo 2020 meeting together next year.
(shop, restaurant)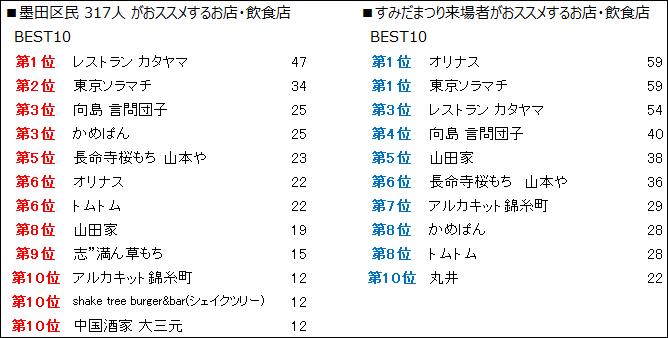 (event)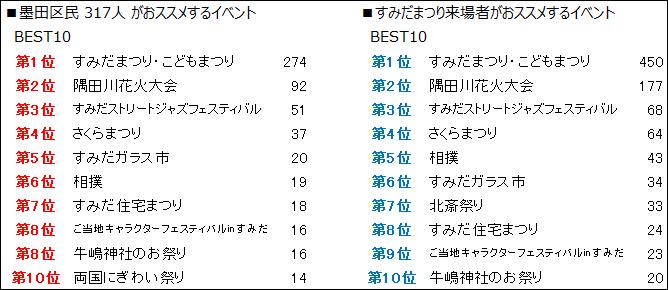 We had comment from corner lump fishing executive committee.

We appreciate your choosing corner lump fishing, child Festival as "event that is recommended in Sumida-ku" BEST1. It is handmade festival of inhabitants of a ward, and corner lump fishing, child Festival is event that you can enjoy more than generation. Many customers from the ward inside and outside are satisfied and want to hold event that you can think "to want to come again" from now on.
We sincerely offer my gratitude for all of you who had you cooperate with questionnaire. Thank you. !!