From Monday, October 1,
It releases "Taito, Sumida Tokyo downtown area tour ticket"
We can enjoy railroad, bass of ... downtown area area in discount more and more usefully! ...
In both wards of Sumida, Taito, it releases TOBU RAILWAY Co., Ltd., "Taito, Sumida Tokyo downtown area tour ticket" stopping by jointly with Tobu bus from October 1, 2018. It is very convenient ticket which can get in and out of route bus of community bus operating both wards, TOBU RAILWAY, Tobu bus freely.
[target line]
・All circulation bus "sumida hyakukei sumimarukun, corner phosphorus" in Sumida-ku lines
・All Taito-ku circulation bus "Megurin" lines
・Tobu Skytree line Kitasenju - Asakusa, Oshiage and Kameido Line
・Tobu bus Skytree shuttle Ueno, Asakusa Line
[sales price]
1-day ticket 500 yen
2-day ticket 700 yen
※Is tax-included, rate same as adult, child
[special treatment privilege (one)]
・Discount of the Tokyo Skytree town observation deck admission ticket
・Culture tourist facility, retail store, restaurant, discount, special treatment at public bath
・Discount of share cycle fee
・Discount of Tokyo waterside line "water bus" passage fare
[sale place]
・Azumabashi tourist information center
・Ryogoku tourist information center
・Sangyo Kanko Plaza Sumida Machidokoro
・Asakusa culture sightseeing center
・Parks Ueno (the park information desk)
・Tobu Skytree line Asakusa - Kitasenju, each station of Kameido Line
・Tobu tourist information center Asakusa (the Asakusa Station yard)
・Tobu bus Skytree shuttle ticket window (the Tokyo Skytree town)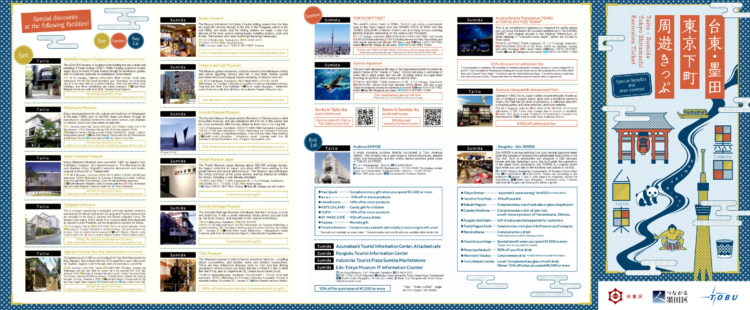 You can download and save from here.